Facebook, which was once the most popular social media platform, has now lost its relevance among teen internet users. Only 32% of teens aged between 13-17 use Facebook today at all, found a study conducted by Pew Research Center study. The same figure was 71% in a previous survey conducted in 2014-2015.
Why not Facebook?
Last year, a researcher at Facebook predicted these statistics. It was found that teenage users of the social networking app in the US had declined by 13 percent since 2019 and were projected to drop by 45 percent over the next two years. At the same time,  young adults between the ages of 20 and 30 were expected to decline by 4 percent.
In the internal memo, the researcher wrote, "aging up issue is real," as per The Verge report. A presentation by a team of data scientists at Facebook in March 2021, stated that "most young adults perceive Facebook as a place for people in their 40s and 50s."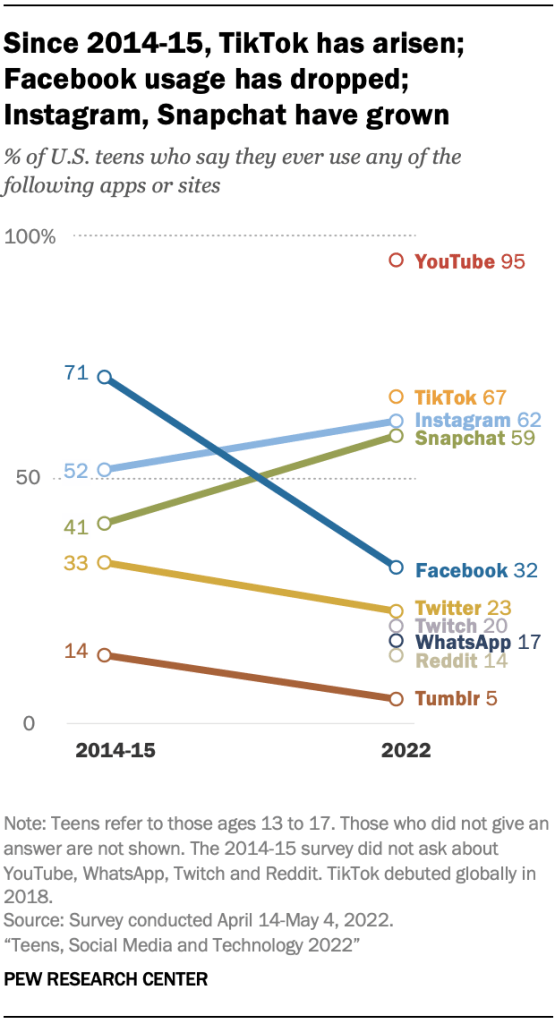 The Teens, Social Media and Technology 2022 study from Pew Research Center revealed that YouTube is the most common among 1,316 surveyed US teens, which is used by 95% of respondents.  58% of respondents use TikTok daily stated study. TikTok, the platform that rose to fame for its revolutionizing short video content platform is used by 67% of teens.
A total of 62% of respondents cited Instagram while just 32% said they use Facebook, down from 71% in the 2014-15 survey by Pew. Hence, other social media platforms are attempting 'TikTok-ification' of their platforms.
In 2014-15, 33% used Twitter which is now down to just 22% use Twitter whereas only 5% use Tumblr, down from 14% in 2014-15.
Another interesting finding: 36% of teens think that they spend too much time on social media. and 45% said that they wouldn't have trouble giving up social media.